Manufacturer: Autocontrol Technologies
For each sampling application, the Autocontrol Technologies can provide the most suitable solution, follow the table below with the main types and architectures available for each type:
O Bright-Ex is a "hazardous area friendly" controller designed to operate the sampling system and allows local management of the entire sampling system and any connected indoor field devices. It is fully compliant with ISO 3171, API 8.2, IP 6.2 and ASTM 4177.
The Bright-Ex controller operates the sample probes at up to 60 captures per minute, depending on line conditions. All devices in the field are automatically operated in real time:
Automatic changeover;
Line filling;
Proportional operations of time or flow;
Line heating sample;
Sample line lock;
Sample Line Purge;
Receiver Inertization Sample;
Perform performance calculations to verify system health;
It can monitor many process variables when signals are provided, such as:

flow rate;
Temperature;
Pressure;
Density.
The Controller can be easily integrated with any DCS system via Modbus or Modbus over TCP via Ethernet cable. In addition, the Integrated Display allows you to routinely perform all diagnostic checks relevant to the ongoing sampling operation, such as:
Operating parameters of the batch to be sampled;
All working parameters and sampling operational statistics input data;
Display of alarms on the screen in real time. A local, sunlight-readable graphical display clearly indicates all required operating parameters and details;
Utilities: AC power input;
Inputs: 4-20 mA signals from the field (Flow Rate, Pressure, Temperature, Density);
Output: Modbus connection with Infield I/O sampling system;
Classification: II2G IIB + H2 T4;
Protection degree: IP65.
Main features:
Clearly readable graphic display;
Remote Start / Stop - Operational signals such as dry contacts;
Can operate In-Line and Fast Loop samplers;
Can operate up to four auto-switching sample receivers;
Grab Checkers Management for Grab Factor monitoring;
DCS Modbus connection for remote control;
ISO3171 *, API8.2 *, ASTM D4177 *, IP6.2 (*with load cell)
Sample Collection Probes
Model: PS55RA With pneumatically actuated.
Model: PS55ERA With electric drive.
This sampling probe is an insert type with immersion level regulation to position the collection chamber in the area suggested by ISO 3171/88 for installing sampling probes in horizontal and/or vertical lines.
It has a collection chamber in AISI 316 steel and pre-adjustable constant capture volume of 0.5, 1.0, 1.5 and 2.0, with capture frequency from 0 to 60 captures / minute.
The variation in the capacity of the extraction chamber occurs with simple and quick operation without the need to remove the probe from the pipeline.
The sampling probe is already equipped with a SS316 safety valve to avoid, in any operating condition, possible leakage of the product into the sample container.
The probe must be coupled to a 2"# 150 full bore isolation valve to allow sampler extraction and piping isolation.
Sample receiver with weighing system
Container for storing automatic sample collection - Model: SR-20M/316 and SR-IO/316
Capacity as required by the customer, in SS304, waterproof.
All auxiliary items are in SS316L (½" male quick connector", ¾ male quick connector", pressure relief valve, pressure gauge).
Suitable for use with the PM-20 Series laboratory mixer.
For accurate sampling ISO 3171, API chapter 8.2 and IP part IV section 2 recommends using handheld receivers as the most reliable solution to maintain the integrity of the sample collected at any time in the same state representative as in the pipeline.
The SR-20 and SR-IO sample receivers are suitable for the storage and handling of crude oil and refined product samples.
Digital Electronic Automatic Weighing System Model: WS-30, ISO/API/ASTM compliant.
Main features
Loading cell: decentralized;
Housing: SS 17-4 PH;
Degree of protection: IP 66;
Accuracy class: 0.03%;
Capacity: 0-30kg;
Reading accuracy: 5g;
Structure leveling system
Plate: SS316;
Repeatability: 0.01%;
Vibration dampening filter.
The "off-center" type single cell allows you to always obtain an accurate measurement even with an unbalanced weight on the plate.
Weight data is read digitally for greater accuracy and suitable for hazardous areas.
Using the weighing platform allows you to understand the fluid level inside the receiver and then detect if the receiver is full. The accuracy and reliability of the weighing platform outweighs the performance of level switches.
Furthermore, it facilitates the operator's tasks, if together with a sampling system controller, it allows to calculate the performance factor and the capture factor (PF and GF), as required by ISO-3171 and API 8.2 standards.
EPSS
This portable system can be used when a fixed system is not a viable solution (ie lack of space or infrequent sampling operations) and can manage up to 04 sampling points.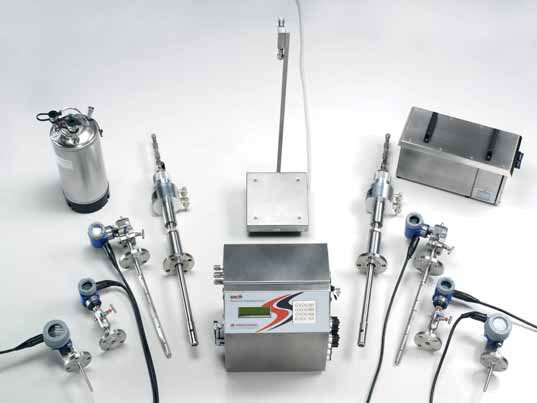 FISRT-90
It is the smallest sampling system, but also one of the most resistant. It can manage a sampling point and is suitable for the most hostile environments due to its stainless steel construction (has been used in offshore platforms, terminals and refineries).
Prime - RC-1
In-Line Sampling System.
The automatic sampling system is housed in an SS316L IP66 insulated cabinet and includes all electronics and devices necessary to operate the sampling system.
The cabinet houses the sample containers with the automatic changeover system, in addition to the container weighing system.
It comes fully wired and instrumented, housing the Bright-Ex Controller, I/O Unit, electronic weighing systems interface, 2 (two) sample receivers, pneumatic, electrical and electronic instruments, in the explosion proof version, clearance for hazardous areas and relevant electrical protections meeting the IECEx International Safety Standard.
The entire sampling system is supplied completely connected, assembled and completely ready to use.
Prime - RCX
Custody transfer applications generally take place on piers where the best sampling point is found in the loading/unloading arms.
In these situations, there is often a chronic lack of space, making it difficult to add a mixing device.
Fortunately, the discharge arm is the best sampling point available due to the presence of the ship's pumps, valves, gears and bends upstream of the sampling point, which ensure an almost perfect mix. In this case, an in-line multiple sampler (up to 06 sampling points) is a wonderful solution: easy, reliable and perfect for the job.
Smart - Loop
The smart loop sampling system implements the classic bypass solution. This solution is perfect when many different in-line measurement devices need to be inserted. These systems are designed according to the specific needs of each application.
Dymix
It's a dynamic mixing system. This device is tailored to meet the requirements of the end user's plant. Available for lines up to 60" diameters, the system is precisely sized to generate enough power to properly mix the duct contents.
It can be used together with an in-line sampling system or combined with a fast loop circuit and cell sampler.
The system can be supplied with two redundant pumps to reduce maintenance downtime to zero, allowing operation with one of the two pumps.
Unlike static mixer devices, virtually no pressure drop is introduced into the main piping.
Static - Mixer
A static mixer system has many advantages: no maintenance, low pressure drop if designed and sized for the specific job, low purchase price and basically no operating costs because it is a passive device.
The mixing performances of the latest devices provide excellent mixing performances with minimal inconvenience.
---
applications
Autocontrol is an international leader in the design and manufacture of automatic sampling systems for crude oil and refined products.
Automated sampling is an increasingly valuable activity for custody transfer applications. In addition, automatic sampling systems are used in the applications listed below:
measuring skids;
Terminals;
Offshore Platforms;
Refineries;
Oil fields.
Main features and differentials
Multi-user supervision;
Monitoring by owners;
Data transfer security;
Data recording to avoid complaints;
Explosion-proof ATEX;
Maintenance reduction;
Fault tolerant;
System backup;
Maintenance and remote diagnosis;
Performance monitoring;
State-of-the-art automatic sampling;
Maximum flexibility for specific customer needs.
Certifications/Approvals
ISO-3171;
API 8.2;
ASTM D4177;
IP 6.2;
ATEX: Zone 2 – IIB T3 IP66.
Related article
Autocontrol Technologies and Fluxo initiate partnership to provide automatic sampling systems
Contact