Manufacturer: Honeywell Analytics
Fixed Gas Detectors
fuel detection
Perimeter Monitoring
Toxicity detection

XNX Universal Transmitter
Compatible with Catalytic, Electrochemical and Infrared sensors;
4-20mA output with HART protocol - Standard;
Hazardous Area Versions: ATEX, UL, CSA (cUL), INMETRO;
Meets SIL 2 (IEC61508);
Enclosure: Aluminum or Stainless Steel, NEMA 4x / IP66;
User interface in 8 languages (English, Spanish, German, Italian, Portuguese, French, Russian and Chinese);
LCD display.
Optional:
Relay, Modbus, Foundation Fieldbus (pending);
HART Local Port.
Highlights:
The transmitter is field upgradeable: to change the communication platform or the need to detect a different gas, it is only necessary to change the plate set.
Easy installation, calibration and maintenance
Sensor Options:
XNX - IR
Point or open path infrared sensors
Searchpoint Optima Plus;
Searchline Excel.
XNX - mV
mV input sensors for flammable and toxic gases
MPD – Multi Purpose Detector (general purpose detector).
XNX - EC
electrochemical sensors
Sensor Options: Infrared (XNX – IR)
Searchpoint Optima Plus
Spot hydrocarbon gas detector
Uses XNX as local display and HART interface
Full HART option if no local display required
Configuration dynamically between gases;
Installation and configuration of Optima without the need for a portable device;
Material: 316 stainless steel;
Response time: T50 < 3 seconds, T90 < 4 seconds (methane;
More than 100 gas and steam calibrations available.
Searchline Excel (target type)
Open beam flammable gas detector;
Patented dual band-pass filter that compensates for fog and/or rain, operating accurately and reliably in all weather conditions;
Works in inert atmospheres;
Response time: T90 <3 seconds (under normal operating conditions).
Sensor Options: XNX – mV
MPD (Multi-Purpose Detector / General Purpose Detector)
CB1 = catalytic (%LEL).
IC1 = infrared cartridge (CO2 0-5% v/v).
IV1 = infrared cartridge (CH4 0-100%LEL or 0-5% v/v).
IF1 = infrared cartridge (flammable 0-100%LEL)

Propane;
Cross calibration possible for Ethylene, Butane and Pentane.
Sensor Options: Electrochemicals (XNX - EC)
Toxic Gases and Oxygen
Gas detector: O2, CO, CO2, H2S, Cl2, SO2, NO, NO2, H2, HF, NH3, PH3, HCl;
Factory default gas and range;
User-resettable range within specified limits via XNX;
Cell replacement capability;
Operating temperature range: -20ºC to 55ºC;
Extended temperature range for O2, H2S and CO: -20ºC to 55ºC.
Sensepoint XCD
Comprehensive monitoring of combustible, toxic and oxygen gases in potentially explosive atmospheres.
Ex d enclosure, in Aluminum or Stainless Steel, IP-66.
Meets UL, INMETRO, ATEX, IECEx, CSA standards.
Backlit, three-color LCD display that indicates status.
All are pre-configured and include:

Two programmable alarm relays:
A programmable fault relay.
A standard 4-20 mA output (selectable drain or source) and MODBUS communication for remote diagnostics/configuration.

SurecellTM Electrochemical, Poison Immune Infrared, Poison Resistant Catalytic Pellistor Sensors.
Highlights:
Unified solution for gas monitoring;
Flammable (catalytic or infrared), toxic and oxygen versions available.
3000 Mkll Series Transmitter
2-wire, 4-20mA toxic gas transmitter.
Integrated gas concentration display.
Reduced commissioning costs.
Patented diagnostic verification of "Reflex" detection elements.
Meets UL, INMETRO, ATEX, IECEx, CSA standards.
Factory-configured plug-and-play sensors.
Intrinsically safe sensor connection allows automatic switching.
LCD display.
Highlights:
Reduced installation costs.
Universal mounting bracket included, supplied as standard.
Integrated fault diagnosis software.
Sensepoint XRL Transmitter
Monitoring of flammable, toxic and oxygen gases.
Outputs: 4-20mA / Modbus RTU.
Bluetooth 4.0 wireless interface.
Visual Indicators.
Complies with UL, INMETRO, ATEX standards.
Highlights:
Honeywell's innovation allows customers to connect the gas detector to the cell phone and from there use an application to perform various tasks related to the installation, commissioning and maintenance of the device.
Quick installation.
Quick setup.
Easy to use.
Simple maintenance.
Searchzone Sonic
Flammable gas monitoring.
Coverage area: typically 20 m (65 ft) radius on shaft.
Digital communications: Modbus RTU RS485, HART®, Bluetooth.
Visual Indicators.
Complies with UL, INMETRO, ATEX standards.
Highlights:
It is a robust and reliable gas leak detector.
It will "hear" the loss of containment of any high pressure gas.
It is an advanced, wired, and SIL 2 certified (pending) hazardous area ultrasonic gas leak detector.
It responds to the high frequency sound of escaping gas under pressure and is unaffected by environmental conditions.
It focuses on the scratches, ignoring the noise sources to the sides and behind it.
Increases coverage.
Reduces false alarms.
Removes the risk of common mode failures.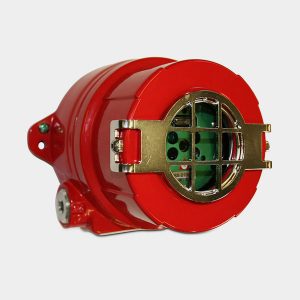 Flame Detectors
Flame Detectors - Models: FSX - FS24X , FS20X
FS24X – QuadBand detectorTM Triple IV (IV/IV/IV/Visible);
FS20X - Multi-spectrum detector (IR/IV/UV).
Highlights:
Hydrocarbon and non-hydrocarbon fuel.
Dual microprocessors for dependable performance.
Patented* WideBand IR™ technology.
WideBand IR™ combined with ultraviolet.
Patented Electronic Frequency Analysis™.
FirePic™ — pre-fire event data storage.
Non-isolated 4-20 mA analog output (drain or source).
RS-485 ModBus communication.
Fire alarm, fault and verification relays.
Meets SIL 2 requirements.
Test lamps for manual testing.
Field of vision FS24X:

110° full 100% of cone of vision or
90° full cone of vision 100%

Field of vision FS20X:

90° full, 100% from center of view, ± 45° from axis.

Versions for classified areas: ATEX, UL, CSA (cUL), INMETRO.
Housing: Aluminum (Cooper Free) or Stainless Steel, NEMA 4 4x / IP-66.
Optional:
Highlights:
Detects both hydrocarbon and non-hydrocarbon fuel fire in all environmental conditions.
Visible sensor for optimal false alarm rejection.
Selectable detection sensitivities.
Contact